World of Coal Ash 2022
WOCA Mail List and 3rd Party Hotel Scams
WOCA friends and colleagues: There are two organizations out there trying to take advantage of the WOCA brand. One group is selling fake attendee lists. The other is trying to get prospective WOCA attendees to reserve hotel rooms through their website. Both of these are scams. We never sell our attendee list, and the only way to reserve a room for WOCA is through our official reservation site (located on this website).
WOCA Conference Site Now Available
The conference site, provided by Omnipress, as well as the work-in-progress schedule, are now available.
WHERE
COVINGTON, KY
Northern Kentucky Convention Center, 1 W Rivercenter Blvd, Covington, KY
CALL FOR ABSTRACTS
December 10, 2021
Refund Policy
WOCA 2022 Refund Policy – Any refund requested prior to April 29, 2022 will receive an 80% refund. WOCA will refund 50% of registration fees for any requests made after April 29, 2022.
WOCA…IT'S LIKE WHOA!
WOCA is an international conference organized by the American Coal Ash Association (ACAA) and the University of Kentucky Center for Applied Energy Research (CAER). The 2022 conference is the 9th joint biennial meeting with a focus on the science, applications and sustainability of worldwide coal combustion products (CCPs) as well as gasification products.
"IF THEY WANT TO GET TO KNOW THE CLIENTS, THE POTENTIAL SUBCONTRACTORS AND VENDORS THEY NEED TO WORK WITH TO BE SUCCESSFUL, AS WELL AS THE COMPETITION THAT WE CAN ALL LEARN FROM AS WELL, THEN WOCA IS CERTAINLY THE PLACE TO BE TO MEET ALL OF THOSE INDIVIDUALS AT ONE TIME."

Golder Associates

"I REFER TO THE WORLD OF COAL ASH AS THE QUINTESSENTIAL COAL ASH CONFERENCE."

Business Development Manager / Environmental Services, Burns & McDonnell

"IF YOU WANT TO KNOW ABOUT COAL ASH, AND YOU WANT TO KNOW THE COMPANIES THAT WORK IN THE FIELD OF COAL ASH, AND THE PEOPLE THAT WORK IN THE FIELD OF COAL ASH, YOU NEED TO BE AT WOCA. THAT'S THE PLACE TO BE."

Haley & Aldrich

"IT'S ONE OF THE MOST VALUABLE EVENTS I GO TO BECAUSE I MEET A LOT OF CLIENTS AND LEARN A LOT ABOUT WHAT OTHER PEOPLE ARE DOING."

Sr. Principal, Geosyntec Consultants

"WOCA IS THE PLACE TO LEARN ABOUT CUTTING EDGE TECHNOLOGY AND INNOVATION IN THE CCR MARKET. WE LOOK FORWARD TO IT EVERY YEAR AS A CHANCE TO MEET UP WITH OUR CLIENTS AND COLLEAGUES AND SHARE OUR KNOWLEDGE."

AECOM Vice President and Program Manager
STAY IN HISTORIC COVINGTON, KENTUCKY
WOCA 2022 plans to offer rooms at two Northern Kentucky hotels as part of our rooming block, the Cincinnati Marriott RiverCenter and the Embassy Suites Cincinnati RiverCenter. Both hotels are conveniently located next to the Northern Kentucky Convention Center, the location for WOCA 2022.

3rd Party Reservations

Please Note, rates & concessions are NOT guaranteed through 3rd party online booking services, only use the link provided below.
NORTHERN KENTUCKY CONVENTION CENTER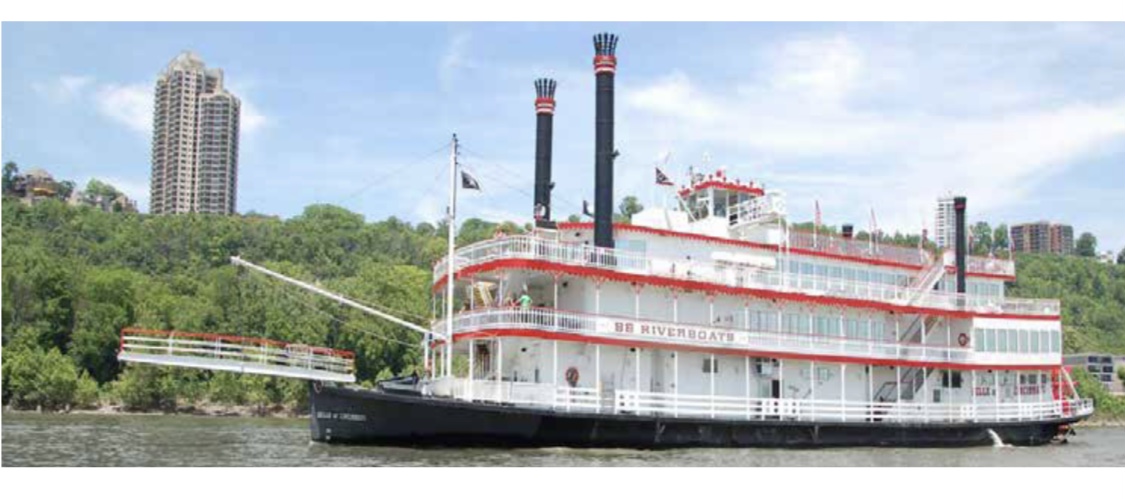 BB Riverboats
(Wednesday Off-Site Reception)
As WOCA winds down each year, the WOCA Off-Site Reception is always a highlight. And this year's event promises to be one for the ages.
WOCA attendees will have a chance to cruise along the Ohio River on BB Riverboats. Enjoy great food, an open bar, and live music on one of the most unique settings in the Midwest.
Whether you want to hear a live band or enjoy conversations with WOCA friends in a beautiful, natural setting, the 2022 off-site reception promises to be a terrific time.
BB Riverboats will pick up WOCA attendees just a few steps outside of the Northern Kentucky Convention Center at Covington Landing. The boat ramp is located between the Embassy Suites Cincinnati Rivercenter and Cincinnati Marriott Rivercenter.
Boarding begins at 6 p.m. with a dinner buffet. Anyone choosing not to stay for the cruise will depart the boat at 7:15 p.m. The boat will depart dock at 7:30 p.m. for a cruise along the Ohio River and will return at 9:30 p.m.
BECOME A SPONSOR OR EXHIBITOR AT WOCA 2022
Connect with over 800 potential customers and colleagues at the largest ash-related event in the world — World of Coal Ash 2022! World of Coal Ash attendees represent marketers and end-users, environmental "green" businesses, architects, engineers, contractors, concrete producers, waste and disposal delegates, researchers, and governmental representatives. Demonstrate new products and services to these attendees and receive immediate feedback from prospective clients.